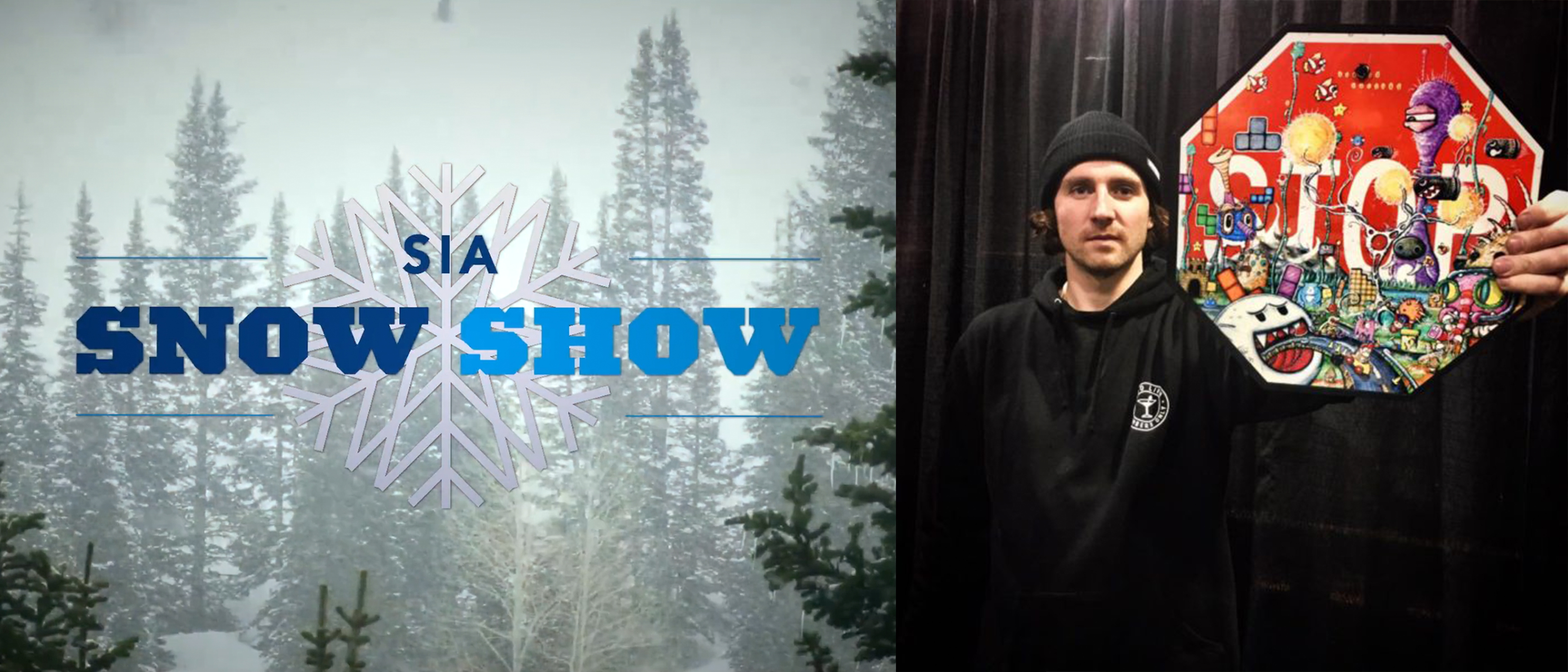 We need to talk about the SIA Snow Show, one of the coolest events Atomic7 has been involved in to date, an event symbolic of the action and ever-upward direction we're taking. Our participation and slice of this life wouldn't have been possible without our budding partnership with Royal Racks, a company started by Madison native Brandon Bauer. We were afforded the huge opportunity to combine Nick Ringelstetter art with his product, The Gnar Bar, perfectly representative of the Skate/Art lifestyle we've fallen comfortably into over the past year of designing, producing, and distributing custom boards.
The Gnar Bar is a high quality board display – an easy solution to vertically hang your skate, snow, long and electric longboards. Its ease of use and sleek design, along with a fully customizable back plate, provides consumers, retailers, resort operators as well as artists and athletes the ability to personalize their Gnar Bars. With three models including the low-key "Slim," the original "OG," and the multi-functional "Home," style, there will be a model to fit the needs of every boarder. Back plates are easily branded with graphics and logos, making the Gnar Bar a helpful tool for both collectors and daily riders.
Brandon is based now in Denver, Colorado, home of the annual SIA Snow Show. The SIA Snow Show is one of the largest snow sports industry expos in the world, . At the Colorado Convention Center, a collection of Snow Sports industry leaders and up-and-coming brands work together with technological innovators and entrepreneurs to progress the industry as a whole. The multitude of brands, manufacturers, and influencers together in one place is an ideal scenario.
From a small corner booth on the massive convention floor, Royal Racks made a big fuss, commanding attention from all walks. The boards and art were a huge hit, and raffle entries to win Nick's 20×20 Stop Sign flooded in far beyond our expectations. Interest in Royal Racks, as well as the art, boards, apparel, and potential of commissioning Atomic7 artists like Nick and Tiera Jackson reaffirms our confidence in building a team of talented, passionate, unstoppable artists and partners. A huge thanks is due to skateboarding legend Greg Ludzka. He loved the Gnar Bar and purchased a stop sign. One quick snap was posted, and over 2,000 likes later on Instagram, the ball keeps rolling. Inundated with requests to collaborate, mural commissions, and potential product designs to consider, we have a lot of work to do.
We at Atomic7 are grateful to be associated with Brandon Bauer and Royal Racks, and extremely excited for what's to come. The connections made at this show will undoubtedly put both businesses on the fast-track to higher slopes.
This excitement, coupled with great food, music, and vibes made Denver hard to leave. Though we're bound for warmer weather staring down the winter tour in Florida, SIA was an obvious indicator that we'll be back in the snow soon enough.
Tara Falk
Content/Marketing Team @ Atomic7Studios