The big idea to live like a bunch of big kids is closer to reality every day. Right now, the team is like a handful of siblings, finally growing into a need for their own space, burning the bunk beds and building out our own rooms. We're now completely moved in and operational at the new studio, 3 former classrooms of the old Blackhawk School, situated between Plain and Sauk City. The perks of this move are numerous; the empty halls are great for boarding and roller skates, and we love the gymnasium with hoops in place to shake it off when we hit a block. Our break room is stocked with (our favorite) Monster energy drinks. The trophy cases are begging to be filled with art and artifacts. As usual, our minds move miles every minute, thinking up ways we can utilize this unique arrangement: we see a blank canvas on the massive white wall out back, begging to be covered with a destination drive-up mural. In the ball diamond with an overgrown outfield, we see a sculpture garden, with perimeters easily marked by more permanent versions of our mobile graffiti wall.

Our vision for this place is magnificent, and yet first things must come first. There's work to do before we play! As the long-awaited time to finally separate art supplies from manufacturing and inventory has come, we also are afforded a crack at new pitches like screen printing and apparel. Along this road, the evolution of the Atomic7 brand has seemed to progress naturally, and we are excited to finally announce the launch of Atomic7 Studio, separate from the brand of fine artist Nick Ringelstetter, founder and historically, the "main artist," represented by the Atomic7 Studio name.  
There are two main manifestations of this big change for our fans and friends, and they'll be experienced online. Followers will notice new organization and voice in our social media channels and site, as Atomic 7 grows to encompass an entire staff and fully functional, multifaceted art studio.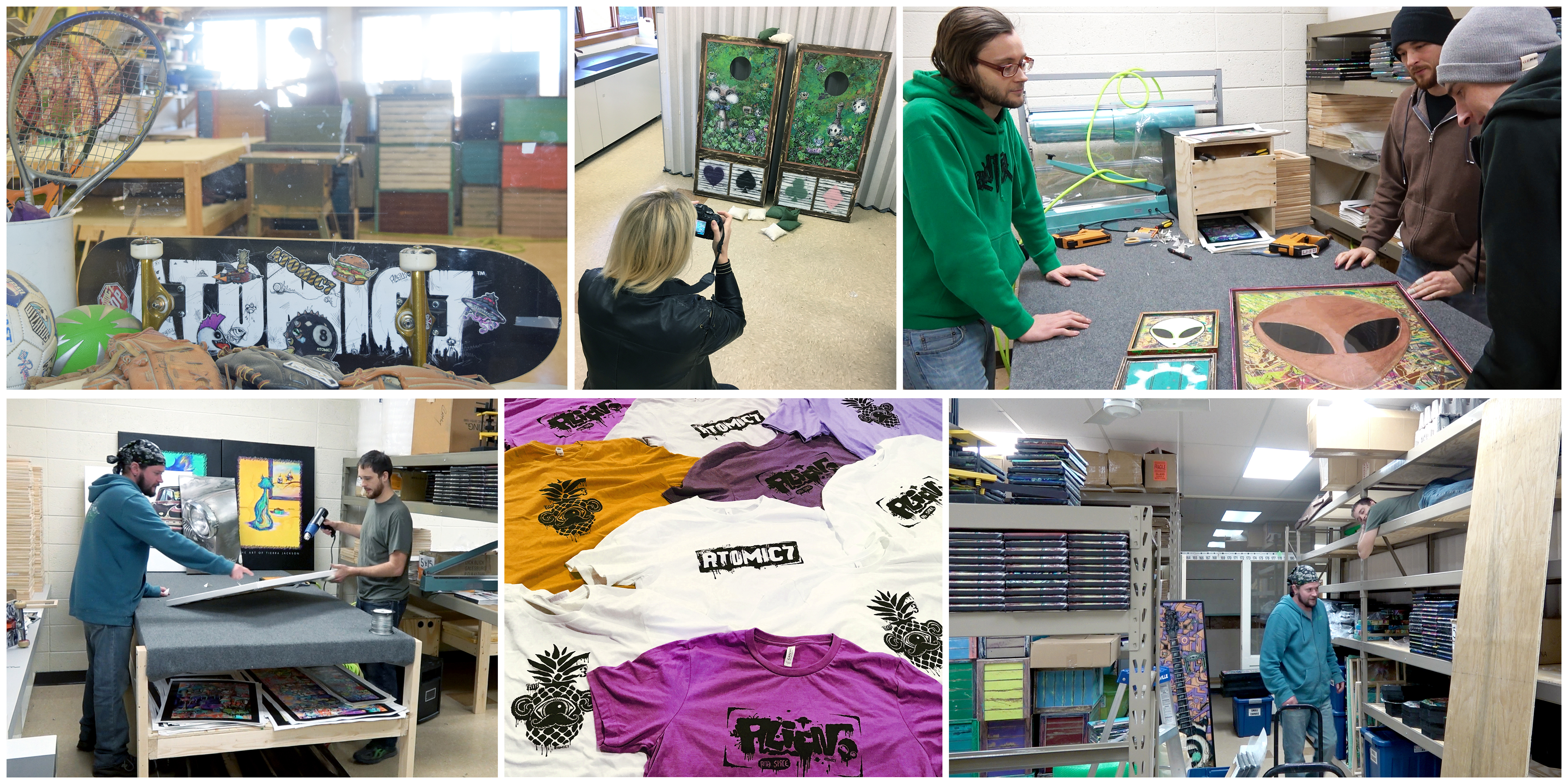 First, we invite you to follow us @atomic7studio on Instagram. Since inception, Nick has been operating under @nickatomic7 and hopes to continue building his personal brand there, while the new account will showcase more collaborative works and different perspectives.
Secondly, our website has been completely revamped with new pages and regular blog posts. In addition, it's officially open for business. Visitors can finally order directly from ATOMIC7STUDIO.COM. 
We look forward to collaborating with more local artists, expanding our product offerings and welcoming you to the new studio someday soon.

Tara Falk 
Marketing and Content 
Atomic7 Studio