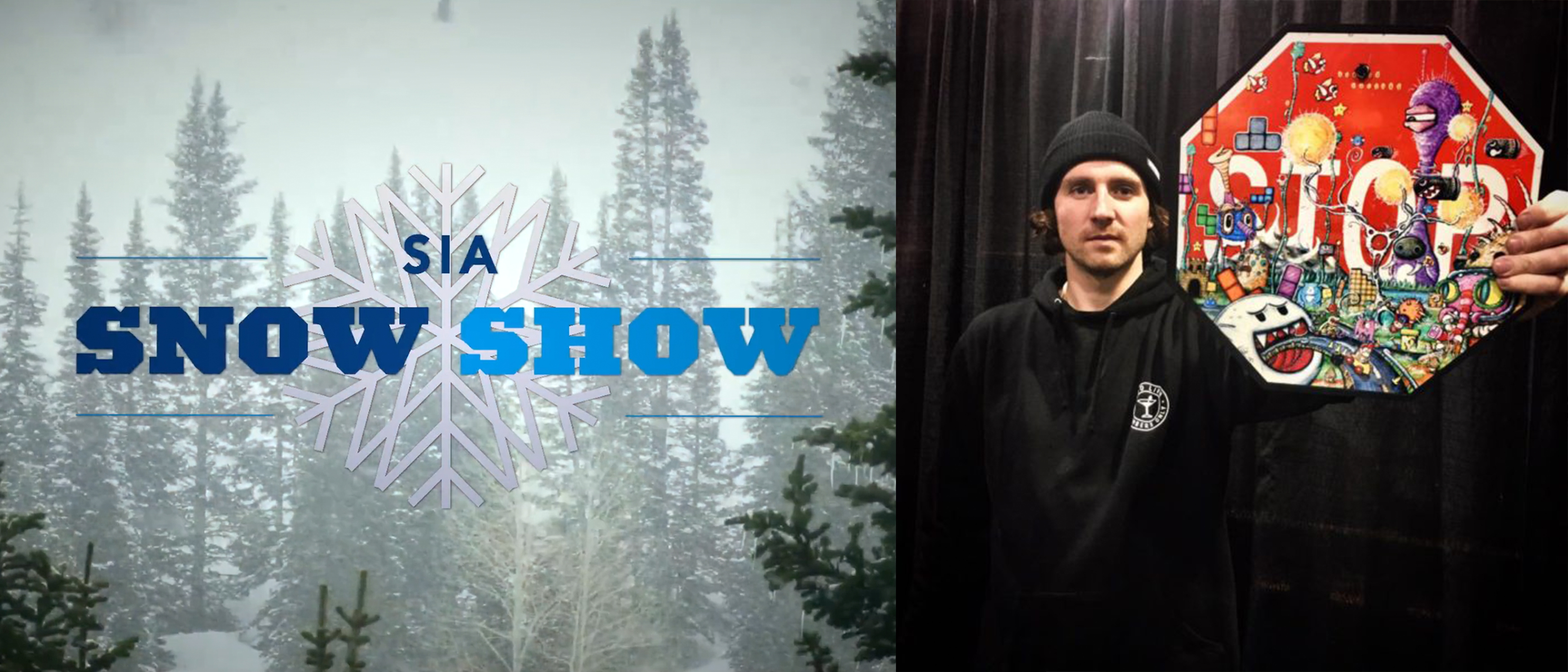 Sitting here now, this all feels so surreal. While getting ready to come to Denver for SIA 2017, I was tasked with creating and posting a blog describing what we were looking forward to, and what we expected to come out of this huge exposition. Having never been to SIA before I found the words difficult to come by. The excitement of the 16 hour drive from Wisconsin to Colorado left plenty of time for my imagination to create both the best, and worst case scenarios.
Our partnership with Royal Racks, a company started by Madison native Brandon Bauer, offered us a chance to apply Nick Ringelstetter art, to their product. The Gnar Bar is a high quality, customizable way to vertically hang your skate, snow, long and electric longboards. Its sleek design and daily usability, along with a fully customizable back plate, provide retailers, consumers, hotel/ resort operators as well as artists and athletes, the ability to personalize their Gnar Bar. Whether the super low profile "Slim" model, the "OG" who's back plate can be cut to any shape, or the multi-functional "Home" style that includes the Gnar Bar, with a hook and shelf, every boarder can find one to fit their needs. With the capability to apply brand logos, graphics or art to any back plate, the Gnar Bar can be utilized by both the collector, and the daily rider alike. We at Atomic7 are grateful to be associated with Brandon Bauer and Royal Racks. What we couldn't have anticipated was how big this was all going to be. (www.RoyalRacks.com)
To begin with, the SIA Snow Show is one of the largest snow sports industry expos in the world. A collection of industry leaders and up and coming brands working together with technological innovators to progress the Snow Sports industry. This many brands and manufacturers in one place is a dream come true for us.
Any words I may have been able to muster before I came here, in some feigned attempt to mask my ignorance and excitement, could not come close to describing what I walked into at the Colorado Convention Center in Denver. Every major brand you could think of, and some smaller ones that you'll hear about soon, fill a HUGE convention floor. But from a cozy corner booth, Royal Racks made a ruckus. A wildly popular product at the show, the Gnar Bar will have Brandon no doubt inundated with calls from clients looking to equip themselves with his one-of-a-kind product.
Building this partnership with Royal Racks afforded us the opportunity to establish connections with brands that currently breach the current Skate/ Art lifestyle that we've been comfortable in for the last year. At Atomic7 we look to maintain an awareness of consumer needs while staying strong to our belief that we all must stay strange and proud.
Luckily, our fan base, is as strange as we are. The entries for the raffle to win Nick's 20"x20" stop sign far exceeded what we could have imagined. The response to his snowboard designs, other art, along with a strong interest in apparel, has me excited about 2017. The interest in original signature work from Atomic7 Studio Artists like Tiera Jackson, has me confident that we have, and will continue to build a team of talented, passionate artists and partners.
The 2017 SIA Snow Show has been an experience that I will not soon forget. A HUGE shout out to Skateboarding Legend Greg Ludzka, who perpetuated the grassroots lifestyle by supporting fellow Wisconsinites in our journey to the top. He loved the Gnar Bar and had to have one of Nick Ringelstetter's stop signs. I snapped one picture, and over 2,000 likes later on Instagram, the ball has begun to roll. Overwhelmed with requests to collaborate, commissions to create original murals, and product designs to consider, we have a lot of exciting choices and decisions to make.
The great food, music and vibe has me not wanting to leave, but Florida is calling. Launching our first adventure through the more forgiving southern winter. I will sadly leave the mountains behind for warmer weather but the connections I have made here are going to push Atomic7 to the next level. Who's with us?
Cody & Atomic7